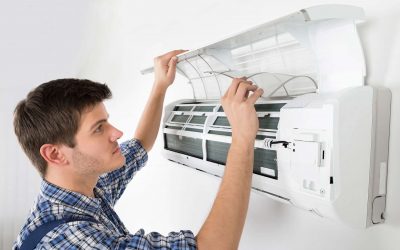 Summers can get pretty hot and muggy in North Carolina. If you are living in this area, you know that it's pretty miserable without air conditioning in Charlotte, NC during the summertime. That is why it is not that uncommon to see that almost every home in the state has their own air conditioning unit.
Since AC units are relied upon so heavily in the summer, there is a potential possibility that your AC unit could break down. This is what usually happens, especially if you do not regularly call in maintenance services to have your units checked. Chances are your air conditioning unit may not be as efficient as it could be. A common indication of this would be if it takes longer to cool down your home or if it cannot keep a steady temperature while on. When you start seeing these signs from your AC unit, try to assess whether the following reasons could be the cause of the malfunction and breakage of your air conditioning.
Low Refrigerant In The System
Freon is the chemical refrigerant that is placed inside your air conditioning units. This is what the system uses to remove the heat and humidity in your home. Technically, the refrigerant is only circulated within the system. That means that if the units are taken care of properly, you would not have any problems with the levels of your freon. However, several problems like leaks in refrigerant lines could cause your air conditioning system to have low levels of freon. If you feel like the temperature in your house has changed recently but the settings on your AC unit have stayed the same, then you might be dealing with a refrigerant level problem.
Replacing the freon in the system is not the solution in this case. It is something that only an HVAC repair technician in Charlotte, NC could fix. When you take notice of this kind of problem, you should immediately call in air conditioning repair services. The AC repair technician would not only check the root cause of the existing problem but would also see if there are other affected areas that could cause multiple leaks and further damage in the future.
The Coils Of The Evaporator Are Frozen
The refrigerant or the chemical used for the cooling mechanism of your air conditioning units passes through the evaporator coils. This is where the absorption of heat happens. When there is a problem with the evaporator coil, you would feel its effect almost immediately. Since the main system responsible for the exchange of heat is broken, then you should expect that even though the refrigerant levels are intact, there is no evaporator coil to cool it.
Usually, blocked airflow in the evaporator coils is the main cause of the problem. When something goes wrong with the airflow, that basically means that the evaporator coil will be left frozen. Layers of ice could accumulate inside the coil and would prevent it from further evaporating humid air. An indication of this problem would be getting warm air from your air conditioning units or worse, none at all.
The Condenser Coils Are Already Dirty
Aside from the evaporator coil, another important aspect of your air conditioning mechanism would be the condenser coil. If the evaporator coil is located inside the unit then the condenser coil is a part of the AC unit's outdoors system. Its job is to get rid of the head that was removed from the air by expelling it outside of your home. Since the condenser could only expel warm air effectively if the ducts are clean, then dirt would have to be its number one problem. The ducts of the condenser coils, due to its location and nature, are prone to having dirt get trapped inside them. The only way for you to prevent this situation from happening is to have your AC units regularly cleaned and checked from a local Charlotte, NC AC repair services company.
Once dirt starts to accumulate in the condenser coils, it could also affect your air conditioning units greatly. It will cause severe wear on its parts and could lead to system failure if not taken care of immediately.
There Are Problems With The System's Fans
There are two fans inside your air conditioning unit. One that is attached to the evaporator coil to help cool the air, while the other is located near the condenser to help expel the absorbed heat. Thus, by simply looking at why there are fans in the air conditioning units in the first place, you would immediately know that the moment you encounter a problem with either of the fans, the AC unit will be affected.
Some common causes of fan problems could be because of a faulty motor, worn belts, too much dirt and debris inside of it, or lack of lubrication. These problems can be prevented through routine maintenance and check-ups from an experienced and trusted AC repair company in Charlotte, NC.
Thermostat Problems
There are still some older units of air conditioning systems that still have the old dial-type thermostats. Since these are manually adjusted and would need some amount of force to move the dial to its correct position, it could cause your AC unit to have a faulty thermostat dial.
Another problem regarding this thermostats could also be the calibration. For a dial-type thermostat, it is more prone to being incorrectly calibrated. Since the thermostat level is something that you would want to control, if it is not calibrated properly, then that will only mean that your unit will not be receiving the right instructions.
On the other hand, if your air conditioning system has the digital type of thermostats, the technology could be too rather complicated to understand, causing it to be improperly calibrated as well.
Do Not Attempt To Fix These Problems Alone, Call An Air Conditioning Repair Service In Charlotte, NC For Help
It is always recommended to call in a professional AC repair service if your AC unit begins to act up. By trying to fix it yourself, you may only cause more damage to the unit which then could lead to more incurred costs to fix it. You should call a reliable air conditioning service in Charlotte, NC so you won't encounter further problems with your air conditioning.